All of are pups are U.K.C register !! we breed the Best to Best !!! Pups come with a Health Guarantee, will be current on all there shots and will be D-wormed weekly till the day of the pick up!!!
puppies are here!!!!!!
VIDEO!!!
Mr. Banx X SheMurda
These two have been bred together to bring you best of Razor Edge, Gottiline/Mikeland.
"Mr. Banx" is short, stocky, compact, short back, big blocky head, short muzzle, awards winning bully. He has all the great features you would want in a bully. He is the baddest son of "Congo" who is a son of Champion "Paco" (son of lil Ro) and he is also grandson to "Cai" (son of Great Cario). Mr. Banx was bred to my most extreme female on the yard or the south. "SheMurder" is best of Mikeland bloodline where it all began for Mikeland, where Gottiline merged into Mikeland bloodline. her ped is "Mikeland Kracker" (Son of 21 Black Jack litter mate of Black Ace they all are granddads to Grand Champion Dax). Mikeland kracker meets "Mikeland Blue Gator" ( Direct son of Great Notorious Juan Gotti). the 2 studs that started it all for Mikeland. She has a stance to die for!!! super wide chest great leveling of the back. With both of there feature put together as one, puppies should be nothing less then insanely nice. The pups are badass lil monsters!!!! 4 boys 4 girls. no pick been made yet by the looks of it they all look Raw!!!
Male                                                            Female   
| | |
| --- | --- |
| sold |    Brandon        |
| sold |    Sold Fred  Brown             |
| sold Tony |    D.H.K             |
| |    Open              |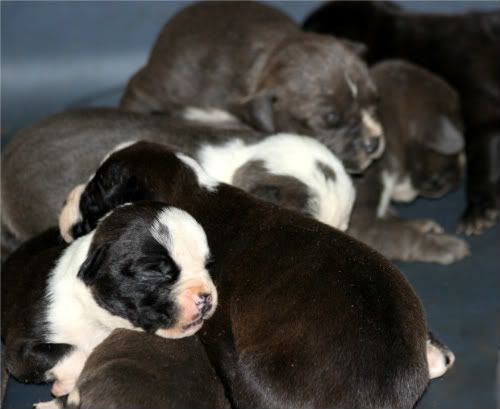 7 month old female for sale check the ped below and call for the pic!!!

 For Sale Call for More info
2x LADIES MAN HEFF, 2x DEGIO'S THING, and splash of  RAZORS EDGE REMEMBERING CAIRO pm me for more info the pups ped is stack up like the pup. 770-549-9740.
Here is the Ped !!!!! 
American Pitbull Terrier/American Bully
Sire
Mr. Criminal Chubbs

Sire
BURKE'S HUMMER H2O

Sire
ABKC CH.TRUE TANK'S WCBP'S THA LADIES MAN HEFF

Sire
CLP'S TRUE TANK MAHOGANY MENACE

Dam
BPK'S WICKED SATIVA OF WCBP

Dam
TAKEDOWN'S FLAWLESS MZ JUDITH

Sire
PURE EDGE CAPONE

Dam
ICEBURG'S GEORGIA

Dam
AMP'S PHIBEE THA CHARMED ONE TPB

Sire
DIEGO'S SANTO LOCO

Sire
DIEGO'S DOING BIG THINGS

Dam
RAZOR'S EDGE DIEGO'S PARTY TIME





Dam
RAZORSEDGE IT'S ALL ABOUT THE U

Sire
RAZOR'S EDGE THE INCREDIBLE HULK

Dam
BULLSEYE RAZOR'S EDGE MOHALA MAMA

Dam
'PR' TEAM EVERETT CALI

Sire
'PR' NORCAL'S MR MVP OF SIK WIT IT

Sire
DIEGO'S DOING BIG THINGS

Sire
RAZORS EDGE bullseye most wanted

Dam
RAZORS EDGE DIEGO'S NASTY NEELA

Dam
'PR' NORCAL'S THE PLAYBOY BUNNY

Sire
ABKC CH.TRUE TANK'S WCBP'S THA LADIES MAN HEFF

Dam
'PR' LVRUTHLESS HALLE BLUEBERRY OF NC

Dam
'PR' ICONS DIEGOS FOREVER DIAMOND

Sire
RAZORS EDGE REMEMBERING CAIRO

Sire
CH RAZORS EDGE PURPLE ROSE OF CAIRO

Dam
RAZORS EDGE UP ALL NIGHT V

Dam
SHAW'S JACINTO MADAM 2 DA MAX

Sire
GR CH RAZORS EDGE THROWIN KNUCKLES

Dam
CH 'PR' SHAW'S MAGGIE MAE

D.H.K PRODUCTION!!!
All of our dogs are great around Kids, People, Dogs, and Other Pets.
We currently have some Adults and puppies for sale
Join us on Facebook and post on out status!!
DogghouseKennels King


Create Your Badge
more info call 770-549-9740 or text !!!!!
DOGGHOUSEKENNELS09@YAHOO.COM  

 WE WOLVES !!!